Author: Oksana Aron, MD
Source: Weight Loss NYC
Feb 13, 2023
Improve Health Outcomes
According to the Centers for Disease Control and Prevention, more than one-third of U.S. adults and 17 percent of U.S. children and adolescents are obese. Obesity-related conditions include heart disease, stroke, type 2 diabetes and certain types of cancer.

"In our own state of New York, the prevalence of adult obesity is nearly 25 percent," said Dr. Oksana Aron. "I am interested in being part of the solution to this medical epidemic by locally helping patients affected by obesity who seek access to safe evidence-based medical treatment options."

Physician supervision is necessary to detect and treat weight-related medical conditions. A program supervised by a physician specialized in obesity medicine offers a comprehensive and effective approach to maximizing overall health and reversing co-morbidities.
Comprehensive Approach
Patients and their health care providers need a variety of options for obesity treatments, since any one treatment cannot work for every individual. Dr. Aron and WeightLossNYC™ provide guidance to its patients via a set of obesity medicine guidelines, cornered in four medical weight-loss methods: dietary modification, exercise prescription, behavior modification and, when appropriate, prescription weight loss medications.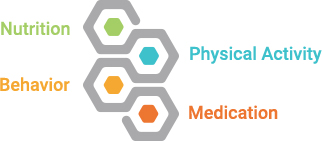 Dr. Aron Medical Weight Loss Program
Complete details about her medical weight loss program and patient personalized curriculum are available on her website, WeightLossNYC.com
About Dr. Aron and WeightLossNYC™
Dr. Aron is the founder of Dr Aron York Medical Weight Loss Center, WeightLossNYC™ — a health center devoted to treatment of overweight and obese persons.
Dr. Aron is an internist and medical weight loss specialist in private practice in New York City, and actively blogs on health care and weight loss topics, and is a passionate advocate of personal health and development.
Her weight loss practice has helped thousands of New Yorkers lose weight every day, and her dedication has motivated countless more to the causes of elimination of obesity and obesity-related conditions.
Read more about Dr Oksana Aron at her practice website, WeightLossNYC.com
Labels: doctor, medical, weight loss