Author: Oksana Aron, MD
Source: Weight Loss NYC
Jun 13, 2009
Blame it on the Brain
Researchers at California Institute of Technology found in their latest study on cravings that there are two areas in the brain that give people self-control over unhealthy foods.
Using an MRI to scan volunteers' brains while looking at images of different types of food to decide which ones they would prefer to eat, researchers discovered significant differences in brain activity between those with self-control over what they eat and those without it.
…the ventromedial prefrontal cortex (vmPFC) is involved in all value-based decisions. When vmPFC activity decreases, a person will probably reject an item, whereas increased activity means they'll probably choose it.
The new study found that in people with no self-control, the vmPFC seemed to take into consideration only the taste of a food.
"In the case of good self-controllers, however, another area of the brain — called the dorsolateral prefrontal cortex (DLPFC) — becomes active and modulates the basic value signals so that the self-controllers can also incorporate health considerations into their decisions," principal investigator Antonio Rangel, an associate professor of economics, said...
Eat Your Veggies
View our carrot raisin salad recipe and others for some healthy inspirations.
View Recipe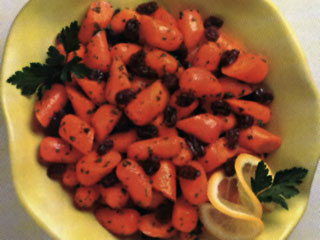 Cite
HealthDay News
Labels: cravings, self-control